Cleanup And Assessment After Flooding In South Lake Tahoe Homes
1/6/2023 (Permalink)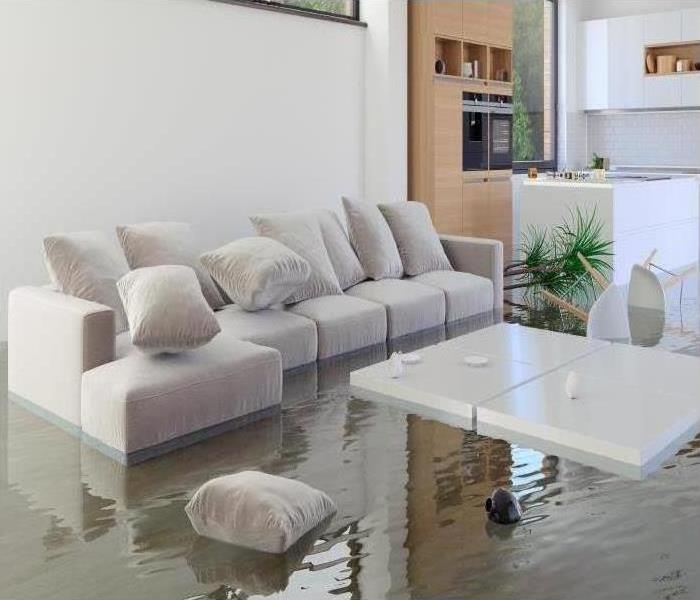 After a flood, homeowners often get overwhelmed by the debris, dirt, and excess water throughout the property.
Initial steps to take once a disaster strikes your South Lake Tahoe home involve finding suitable professional assistance that can arrive quickly with the resources to protect your home from further harm. With flooding, many areas of your property can get affected simultaneously which poses a risk greater than homeowners can remedy on their own. Our professionals can help by arriving quickly with fast extraction tools to help remove the excess water from the affected sections of your property as promptly as possible.

After flood damage to your South Lake Tahoe home, your primary concern is getting flood cleanup and assessment of structural issues. With the advanced equipment that our SERVPRO professionals have in our Green Fleet dispatched out to emergencies, we can make accurate inspections of properties affected by flooding to determine what tools and personnel are necessary to restore your home completely.

From the moment that our professionals arrive at your property, we begin our assessment of the spread of the damage throughout your house. With our moisture detection equipment, we can identify pockets of moisture that require our immediate attention and which materials have become saturated by the excess water introduced to the environment.

Additionally, our SERVPRO technicians get to work quickly on cleaning up the area once the water has gotten extracted and we begin drying efforts. Demolition is often a big part of this process, as many materials require removals such as carpeting, portions of drywall, and other oversaturated surfaces and contents. Once these areas get removed, we can prepare these portions of your home for reconstruction that can follow our initial mitigation efforts.

After a flood, homeowners often get overwhelmed by the debris, dirt, and excess water throughout the property. Our SERVPRO of Carson City / Douglas County / South Lake Tahoe / Reno East / Lyon & Storey Counties has the tools to quickly remove the water from the affected areas and return your property to preloss conditions fast. Give us a call anytime that you need us at (775) 588-2355.