About SERVPRO of Carson City / Douglas County / South Lake Tahoe / Reno East and Lyon & Storey Counties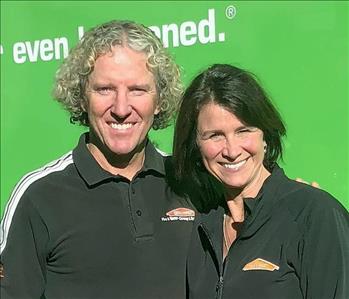 John & Kimberly Allen
Owners of SERVPRO of Carson City / Douglas County / South Lake Tahoe / Reno East and Lyon & Storey Counties
With serene landscapes and an abundance of outdoor attractions and activities, our large service area is home to our area residents and businesses, as well as tourists, all year long. Whenever you need restoration, remediation, reconstruction, or cleaning services, you expect a highly trained team of technicians that can make the process as efficient as possible.
Our SERVPRO franchise has always valued our commitment to customer service and attitude towards hard work above any other trait, making us a reputable choice among the competition throughout our service area. It was for this same commitment that our franchise was recognized this year with the Flying with Eagles award which honored our team among the top leaders in our directorship of over 100.
While we do not perform our disaster relief and restoration work for the accolades, it is important to note that we have also become recognized among the corporation franchises for our response in the Northern California wildfires (Storm Trooper Award). Additionally, we have other recognitions including a SERVPRO Director's Gold Award, and with SERVPRO Chairman Silver and Bronze awards for our salesmanship and successes throughout our district.
Throughout our 17 years of dedicated service to the communities throughout our region, we have invested our resources and gains back into the athletic programs for area schools as well as through national organizations such as the Children's Miracle Network.
We strive as a team to embody a family mentality where all of our employees share the responsibility and success of each restoration project we complete and understand everyone's vital position in making these ventures possible. "It's a WE thing!" Whether we are working to recover damages to our area casinos, the state capital, or working to help a family restore their home after a disaster has occurred, we have the trained technicians and top-tier equipment to do it.
Insurance and Payment Information
For a stress free claims process, SERVPRO works with your insurance to help manage the insurance process and paperwork.
We also accept the following credit cards for your convenience:



Certifications
ASD - Applied Structural Drying Technician
CCT - Carpet Cleaning Technician
ECTP - Employee Certification Training Program
FSRT - Fire & Smoke Damage Restoration Technician
IICRC Certified Firm
OSHA - 10-hour General and/or Construction Industry Training Program
OSHA - 30-hour General and/or Construction Industry Training Program
RRRP - Lead-Based Paint Activities and Renovation
WRT - Water Damage Restoration Technician
Affiliations
Better Business Bureau
Carson City Chamber of Commerce
Carson Valley Chamber of Commerce
Dayton Area Chamber of Commerce
Tahoe Chamber of Commerce
Awards
SERVPRO Director's Gold Award
SERVPRO Storm Trooper Award
SERVPRO Chairman's Bronze Award
SERVPRO Storm Trooper Award-Northern California Wild Fires
Flying with Eagles Award -Pederson Directorship
Flying with Eagles Award -Pederson Directorship
Office Manager "Bringing it Beyond" Award
Production Manager "Highest of Fives" Award